Written by Sian Watkins
By Sian Watkins, The Melbourne Age, 10 August 1996, page A6
They give exemptions to VCE students who break arms and legs, but not to boys whose mothers slash their wrists with cheap, blunt kitchen knives and who wake their sons at night to tell them they have overdosed.

James, studying for his final-year VCE, lives in a big country town. His mother has bipolar disorder and he has spent most of the past two years alone in their housing commission home while his mother has been in and out of hospital.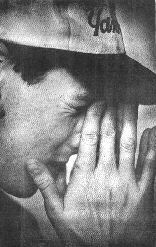 She cut her wrists in the last school holidays; he later cleaned the knife. After school, he cooks in old aluminium sauce pans, washes up, then he studies. He is alone for most of the day, and angry, and most of all, exceedingly lonely.

James is one of more than two million children, adolescents and adults in Australia with a mentally ill parent. A new group, the National Network of Adults and Adolescent Children who have a Mentally Ill Parent, is trying to show how traumatic, damaging and isolating it can be for such people, and to persuade the states and the Federal Government to start helping them.

The network's convenor, Mr Paul McKillop, says many children of mentally ill parents grow up believing that they are somehow responsible for their parents' troubled life. And their needs, subsumed by their parents, are often not met.

Mr McKillop's voluntary network would like to see two specialist workers assigned to each health area (there are 22 in Victoria) to counsel family members and coordinate self-help programs.

He says the group explained the huge need for such help to state health department officers last month but a "dismissive" letter was received from the Premier, Mr Jeff Kennett, yesterday, saying that psychiatric services funding was fully committed and the network should consider talking to VicHealth about a community education project.

James' parents separated when he was three and every time his mother went to hospital he stayed with relatives or foster families. He spent nearly a year in an institution. He remembers being small and his mother waking him and his brother to pray. "Another time she assumed we were dead and then she went away (to hospital) again."

"The problem is, when she's at home, is that there's very little for her to do," he says. "It is very difficult for most people who are unemployed but at least they have their sanity to keep them sane."

James doesn't have the time or money to take the train or bus to see her when she's away. He wanted to leave her once, to go to his father on the other side of the state, but her doctors told him such a move would do her no good.

"Mum's got manic depression, or bipolar disorder. Though I call it polar disorder; she doesn't swing between two extremes, she's just moderately good or bad. I know I'm supposed to be understanding and helpful but it's very hard. I really don't want to be a parent in any shape or form. I am resentful."

Reproduced by NNAAMI with permission of The Age 12 Oct 1996 Melbourne.