Written by CLAUDELLE SHAW
by CLAUDELLE SHAW
Progress Press

CHILDHOOD memories of coping with a parent suffering from mental illness have made Malvern father David Smith, (not his real name), determined that his children will not suffer the same fate. Mr Smith 31 who grew-up with a mother who suffered with paranoid schizophrenia, is married to Joanne, who earlier this year was diagnosed as a chronic manic depressive. At the age of 14 Mr Smith's father died, leaving him and brother Paul to cope with their mother and "the secret" of her condition.With two children of his own aged five and 18 months, Mr Smith and his wife are in favour of speaking out and encouraging awareness or mental illness's and its effect on families, especially children."I don't want my children to endure what my brother and I did because my mother's illness was a big secret," Mr Smith said.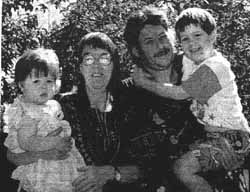 "It was a secret we kept from people, we couldn't bring friends home from school. we couldn't tell anyone our secret, we had a really hard time... I don't want my children to go through what we did: my wife's sickness is not secret it's talked about openly.

"My father died when I was 14 years old, I could have done with a male figure in my life if only just to take me fishing or to the park...

"I really wish there'd been someone there for me through those years to pull me up when I needed it and straighten me out and help me. I could have done with somebody to look up to say, 'hey is this right about life or is this wrong..."

Rather than put his children in child care after his wife suffered a breakdown in May, during which she tried to take her own life, Mr Smith quit his job as a career to look after his wife and children at home.

Living on a home parent allowance, Mr Smith is one of the main supporters of The National Network of Adult and Adolescent Children who have a Mentally Ill Parent(s), (NNAAMI). His brother Paul, is the convenor.

One of the main aims of the group is to support children and people who have a family member with a mental illness.

"These are the silent victims: Paul Smith said... " There is an ongoing need to educate people.. generally in terms of acceptance of dealing with families with psychiatric illness. "Children are not generally taken into account because it's not a fashionable, marketable issue, it's (mental illnesses) nowhere near as obvious as dealing with heart disease or cancer therefore the silent victims are not considered." During this week, which is National Mental Week the group hopes to raise public and Government awareness and, support its members.