Author Dr J. Michael Davey
Listen to Radio Interview now   via Light FM  with the Author  Dr Michael Davey
http://www.lightfm.com.au/News/Dr-Michael-Davey-Podcast.html
http://www.arkhousepress.com/shop/arkhouseau/shop-detail.php?productID=145
http://www.clan.org.au/resources-books-details.php?resourceID=2505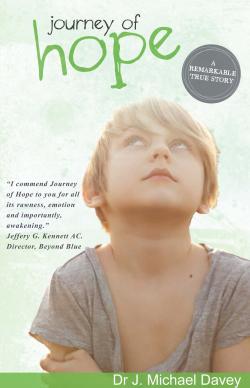 Description
Journey of Hope is the inspiring story of Dr J. Michael Davey. Fostered as a baby and placed in four state-run institutions, Michael experienced significant abuse. Kidnapped by his father, he eventually came home only to discover his mother was a violent and crazed schizophrenic who hated him.
At the hands of his deranged mother Michael was beaten mercilessly. To escape her violence and neglect, Michael left home to join the Royal Australian Navy when he was just 15 years old.
As a child, everyday was a struggle, but Michael fought against the overwhelming odds. Showing extraordinary determination and raw courage he managed to survive the horrors of his early years.
Eventually rising above it all, Michael went on to university where he was the recipient of both PhD and prestigious Medicine scholarships.
Journey with Michael from heartache to happiness, from tragedy to triumph. Smile at his clowning and mischievous antics and be inspired by the inimitable way he survived an obliterated and lost childhood.
ENDORSEMENTS
"I commend Journey of Hope to you for all its rawness, emotion and importantly, awakening."
Jeffrey G. Kennett. AC. Director, Beyond Blue.
"Resilience and optimism are the gems that shine in this confronting story. The author's powerful testimony is that no life need be controlled by the past when forgiveness and love shape the future."
Bishop Peter Hayward. Anglican Bishop of Wollongong.
"This is a remarkable and powerful story. It is also confronting. I congratulate the author for writing this book and encourage you to read his story – you will be both challenged and inspired by it."
Rev. John Reed. Chaplain, The Illawarra Grammar School.
"The extraordinary story of a man's survival in the face of great adversity. It is sometimes confronting and disturbing, but always inspiring."
Dr Sal Sanzone. Medical Practitioner and Lecturer in Medical Education,
University of Wollongong.
"This is one man's remarkable journey from tragedy to triumph."
Dr Kevin Hole. Dentist and Theologian.
"Brilliant and uplifting…a true account of an incredibly brave man's journey."
Karen Chapman. Clinical Psychologist.